Let's talk about the new location. More than anything I keep dreaming of what the geo tag for the new spot should be.
Marissa Inc. A Production Company- Headquarters of all things creative and nerdy and cool and stylish.
Too much huh?
Whatever it is, it's going to be cheesy. See I don't mean to be dramatic. But man it feels SO good to be THIS excited about something in A LONG TIME. Except for that one time a girl stood up on stage a sang me a love song on NBC. But that's a post that's scheduled for a bit from now. I mean we still need to get to know each other a little better.
So I've been scouting for the perfect new location for myself and for the reinvented studio. As you know it has to be in Leucadia to match my new boho beachy lifestyle that I always dreamed of having and I'm still piecing together. If you follow me on instagram you'll know that I'm obsessed with all things Leaucadia: Grandview, Beacon's Beach, Coffee Coffee, Surfy Surfy, Le Papagayo (where everybody knows your name), my dolphin and whale friends who are always out swimming. And even more magical, that little seal who chilled with me while I was reading that one day.
When thinking of our new brand, I asked myself, what am I crazy about. And it was all that.
But first, I want to tell you more backstory about why this is such a big deal to me. In 2007- 2013 we had 6500 sq feet of awesome boudoir territory. We joked that it was the biggest boudoir studio in the world! And back then it probably was. Toward the end of 2013 our lease was up. The new building owners wanted to increase our rent an insane amount. We were actually inhabiting two large suites and we chose to move completely to the smaller suite (it had the better natural light) but it meant having use all of our cash flow and some loans – as we had to completely remodel. Not to mention losing income while we moved and set up the new space. Pretty intense.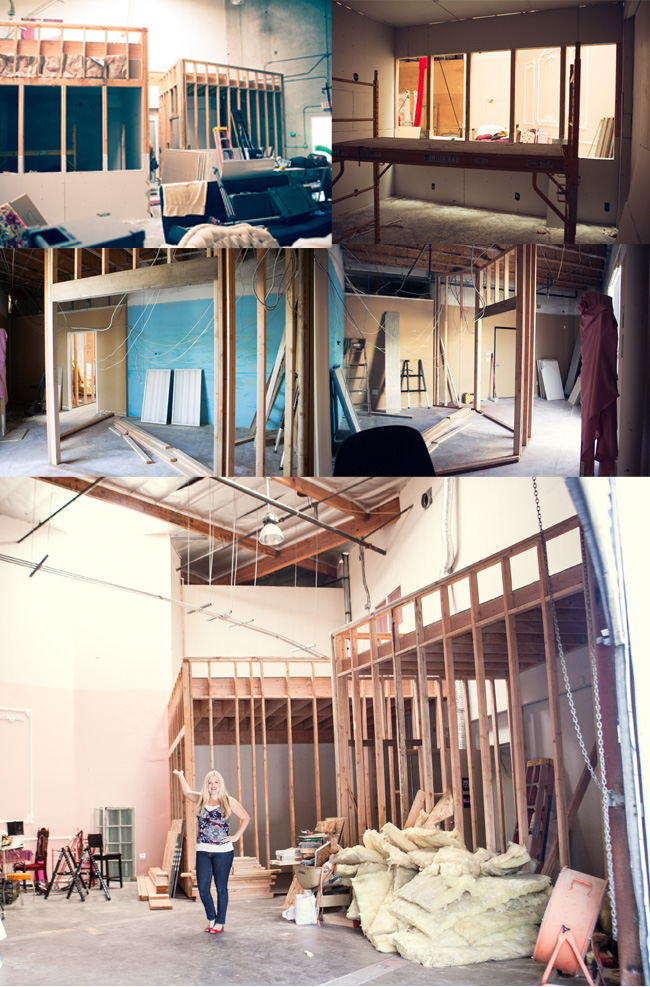 In the same months that we were wrapping us construction and moving into our new suite, my ex Weston and I took our separation a step further and I officially moved out. I left my little dreamy beach house in Encinitas to move into a bit of a rundown home with roommates. Don't get me wrong, it was exactly what I needed at that time. But I was in a little bedroom. Feeling a bit like a child, living with five other adults I just met (one of them a kismet coincidence, Stephanie Dandan, who has been an incredible photography and wanderlust inspiration to me since). I thought this to be entirely temporary. That's why I chose it. It wasn't.
I joked that it was my hippie commune. It was there that I learned minimalism. Letting go of my huge closet of "diva-esq" clothes, bringing only my essential possessions into my 10×11 bedroom. My lease on my luxurious and hip, vehicle was up- so my parents let me borrow the 1997 Toyota mini purple pick-up truck I drove in high school. It was meant to be as a few week loaner until I bought my typical fancy-ish car, but I ended up driving it for a couple years. It just felt right.
I wanted to brush away every ounce of comfort and see who I was when I was stripped down. Nothing fancy to hide behind, just me.
In this eco-conscious home I learned how to go about a daily life where paper towels were forbidden, when composting everything was a tenant requirement, television quietly frowned upon, and I learned if I was feeling lonely, all I needed to do was make a fire in the pit outside and one of my odd roommates would come out and talk to me. Or offer me pot. I was there over a year.
So you can see why my next place felt like such a step up. I was finally allowing myself to grow, to accept that I needed to build a new life, but I wanted to stay a minimalist. Articulating it is hard, but I felt as though I had lost grip on everything I built. Weston and I had officially lost each other. That's something I think that is too painful to really write about about however I will say this about it.  It was an amicable mutual decision made on an eerily quiet, sunny day under our favorite tree. Neither of us was at fault in any way. We made the decision together, from a place of love, only truly wanting better for each other.  
But only those other divorcees out there will comprehend the gravity of the pain that unexpectedly sneaks up on you and throws you into a vortex of crippling loss. Of pulling apart from something that's so much a part of you. It was physically painful. My insides were so wound up tightly up in who we were together for 15 years, that pulling them apart felt like an out of control unraveling. It was like I was a ball of tightly wound yarn, all put together and assembled safe and neat, and then everything in me started to unwind at a speed so fast it made me dizzy. I couldn't grab back on and stop it if I wanted to. No one prepared me for that.
I have to give completely unsolicited advice; if you are considering divorce, don't do it. I don't care what has transpired between you two. Whatever they did. Or whatever you did. Weston and I have many reason reasons to justify our divorce but this is the reality: divorce is not an easier solution to staying together and working it out. If you think staying is too painful, then you simply don't know divorce. Please do the work and put in the time. Stay. Always stay so long as there isn't danger. I say that not because I don't still believe we made the right decision but because I sincerely don't know how I survived that.
Sorry for the momentary tailspin. I don't talk often about it, in fact I've never really talked about it on social media, and I have moved on and am completely in love with the most incredible person (more on that in the future, I can't wait to share honestly) but it just needed to be said. Mainly because some of my friends who are married and at a crossroads ask me, I get the question often and I have to be honest. Divorce is like crossing a dry, dry desert and there is a greater chance your heart and mind won't survive it than that it will.
Back to the minimalism….
So I felt I had been depleted of everything that felt lux and normal in my life (first world problems am I right?). So many things that made me feel secure. I was afraid to build them up again. What if I had to deal with losing everything all over again? Back in that chapter of my life a couple years ago I simply couldn't deal with the risk of that.
I chose the safe approach. If you don't have anything, you won't live your days in fear of losing it. So I moved into my 500 sq ft two story tiny house. If felt temporary, safe, and close to my biggest comforter, the sea. Just a block away. Where at night I could hear the ocean if I leave my bedroom slider open. And it's the ocean that has always reminded me how small I am in comparison to how big and powerful God is. Not an insignificant small, more like it makes my worries seem a bit trite compared to how expansive and diverse this world is. It makes me feel a little like an ant in a hugely overwhelming heap of intricate tunnels and chaos. My mistakes feel less significant, and I feel a little silly for ever feeling like the weight of my little world was all on my shoulders. 
I have been here now for a year and a half. And now I'm far less scared. I am happy here and my heart has been healed a little more. Partly by understanding how to be alone in this big world. And also from meeting the most beautiful soul, who aims to love me more than I deserve. Who somehow saw who I really was through that fog I had been living in. So many beautiful pieces coming together to finally help me let go and not be afraid of building again. Creating a new vision for my life again. And so now we move on…..
Here's our headquarters of all things us, our Production House, under construction. I'll probably find a new name for it soon enough. Help me out with fun geo tag ideas please.
Since this new business is going to be very personal and we will be spending even more time with our clients and getting to know them on a whole new level, I want to work and live in the same space. This is for a couple of reasons, I have done this before, and I moved into a studio space as I once loved having my home and work separated mainly because I loved working constantly, so I needed to set up that boundary for myself where I could be truly off the clock. I don't love working 24/7 anymore. I have a fulfilling  personal life and I live somewhere where I can step outside and be in one of the most unique, and spiritual communities. Rich in surf culture, friendly people and craft coffee. Also, I want us to be in Leucadia (while hippie-ish, it is still expensive) and I want to minimize my expenses. And we will be doing just as much shooting outdoors as in the space, probably more. We will only be doing 1 or 2 in-house shoots a week, the rest will be on location. So it all works perfectly. I will be moving in late Feb to secure this incredible new gem that I am in LOVE with. And then come May we will start our new transition- because we lost our lease on our current space anyway (did I mention that yet? yea I think I did). So all of our boudoir shoots at our current big studio need to be booked and completed by the end of April. April 30th to be exact. As technically this is an entirely new business.
Goodbye Boucher Inc, you've been oh-so-lovely, and hello Marissa Inc. I am more excited to meet you than you know.
Thanks for reading my words friends. And also I got some emails saying you couldn't comment. So my cool web guru Kyle fixed that. I'd love if you told me about YOU.
-Marissa